News
Her podcast: Clarisse Reille on the need to support the fashion sector (FR)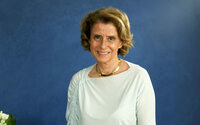 Translated by

Felicia Enderes
Published on



07.09.2021

Clarisse Reille is passionate about fashion and its protagonists, which is why she is committed to giving French brands the opportunity to grow. As director of Défi, the organization that finances the development and transformation of companies in the fashion sector in France, she recognizes the urgent need for change like no other. The Défi supports design competitions, brand digitization plans and responsible sourcing guides produced by the sector's associations.

Luxurynsight X FashionNetwork · Episode 42: Clarisse Reille talks to Olivier Guyot about "The Evolution of Fashion in France" FR
On the LuxurynsightXFashionNetwork podcast, she shares her beliefs about the role of the public and the path that led her to get involved with French fashion.
In particular, Reille cites the challenges fashion brands and companies face, from financing issues to digital investments. The manager, who is trying to make herself heard in the ministries, also warns that the industry should not let the post-Covid-19 phase go unused.
Copyright © 2021 Hermesbelts.co.uk All rights reserved.